Making An Impression With Your Library This Fall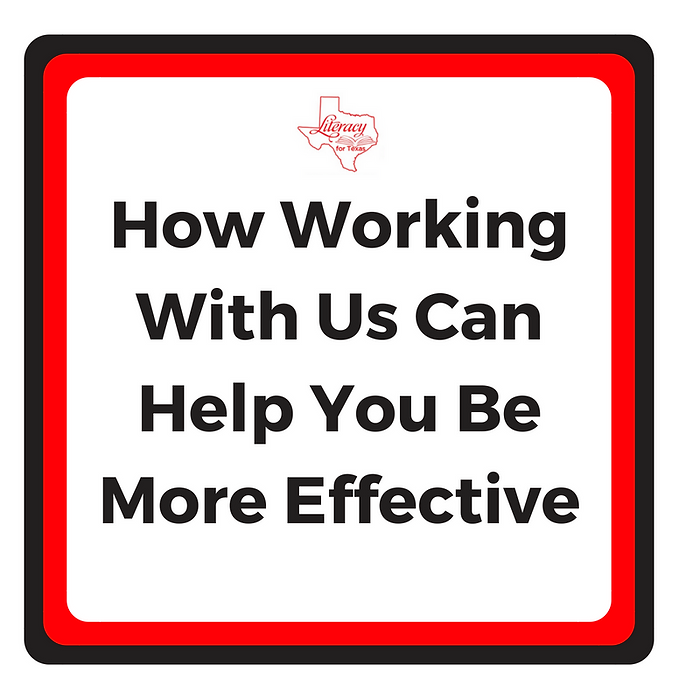 We understand that back to school is a very busy time. That's why we are hoping to help! This Fall, learn how you can do SO MUCH MORE with your partner, Literacy for Texas. Below you will find just a few of the ways working with us can help you be more effective.
Time
There is a lot going on in your day. As a librarian, you're already wearing multiple hats, managing the largest classroom in the school, and supporting other educators with 24/7 resources and information. We can help you manage library programming, and keep you up to date with the latest publisher releases, reviews, specials, and new trends in the library industry! Make sure you take the time to meet with us. We know you have limited time in your busy day, but even a quick phone call to review your collection can save you time and money in the long run. Plus, if you love the smell of new books and previewing in person, we make house calls! Seriously…we love to visit your school, meet up for coffee and support you at your community event.
Money
Budgets these days are tight, and who couldn't use a few extra dollars to play with? We can offer you access to publisher specials and promotions! The old saying "ask, and you shall receive" will always be in our conversations. We will always help support your Library, get you the best discounts/promotions, and increase circulation.
Collection Development
Have you been thinking about weeding, ditching the Dewey, genrefying, or taking other steps to develop your collection? Literacy for Texas has a team ready to help you plan and execute your vision to increase circulation and patronage to your library!
How We Can Support You
It is our JOB to make your job easier! Work with us to build quotes, implement meaningful library programming, and discuss current ideas floating through libraries across the country. Ask us questions, have us create some preview lists for you, and above all, ask how we can help you create a LOVE of reading at your school! Often times, I've been able to introduce new programs like "Student Led Purchasing" to librarians because I am exposed to the idea from the source. I learned about SLP directly from Andy Plemmons (who pioneered the program) at a Capstone sales meeting. I was trained to implement the program, and brought it back to the greater Houston area where dozens of schools have since participated! Literacy for Texas represents the best direct school library publishers to bring you quality print and digital resources. In addition to these publishers, Literacy for Texas provides library consulting and programming for libraries and librarians in the lone star state.
We hope you enjoyed this issue of The Lone Star Educator. 
Want To Connect In Person? 
The Literacy for Texas team is available to meet with you in person, or over the phone, Skype, email & text!